that cynking feeling
He did not need to lasso from the sky
the paper moon he taped upon a string.
He flings the lunar disc to see it fly
then sets the yellow pendulum to swing.
He stole it from a pop-up book of rhyme:
the circle's now a vicious vandal's prize.
The cow can't jump, forever froze in time,
on damaged pages mending can't disguise.
Suspend your judgment, grieve not for the cow;
the dish elopes with spoon, the dog tee-hees.
The moon, set free, has new adventures now.
It's always full and never made of cheese.
Forgive the boy destruction of the book.
Instead you'll find creation, should you look.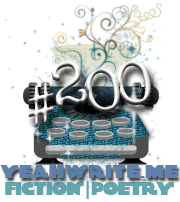 My first attempt at a sonnet as part of the yeah write February poetry slam. I was inspired by this: